FOR IMMEDIATE RELEASE:
Scott Uehlinger a former CIA officer will be our featured speaker on January 5th at 7 PM at the Starlite Ballroom, Allentown.  Scott will address US-Russian relations, alleged Russian hacking, and the situation in Aleppo. 
We expect a number of attendees from the Allentown Syrian Christian Community to engage Scott in the discussions.
At out last meeting which featured Michael Cutler we had over 300 people in attendance, standing room only.
You may wish to cover this event. If so, please let me know ahead of time, so I can reserve space for you.
Also below, you will see that we will have Larry Pratt on February 2nd. We expect special guest Shaneen Allen who was pardoned by Gov. Christie for carrying a firearm in NJ, special guest Joshua Prince who is well known for firearms litigation in PA, and special guests Charles and Mary Strange who lost their son, SEAL Team 6 member Michael Strange, on August 6, 2011 in the downing of Extortion 17 which was the greatest loss of special forces life in history.
We expect a full house for that event as well, and encourage you to cover it.
//tom campione
Chairman, Lehigh Valley Tea Party
chair2016@lvtp.org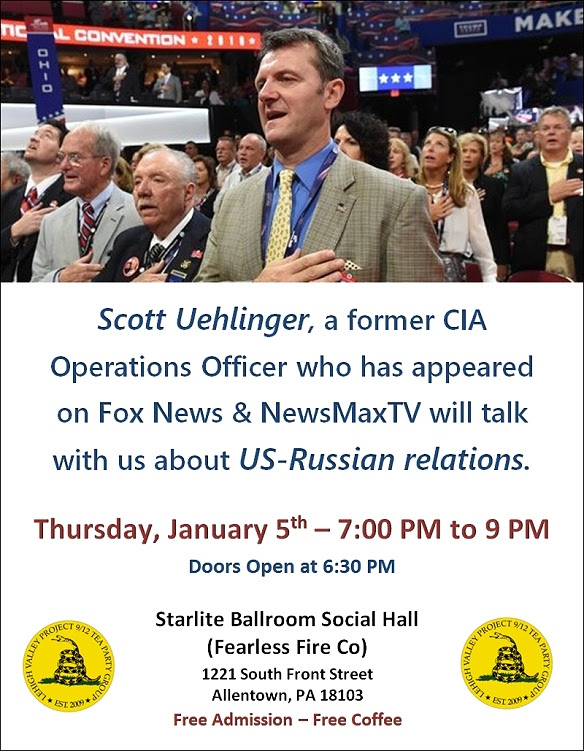 ---
//tom campione
Chairman, Lehigh Valley Project 9/12 Tea Party Group
Talk is cheap.  Actually doing something costs just $15 a year. (Join Now) 
---
Related Posts via Categories