By Rev. Austin Miles at Renew America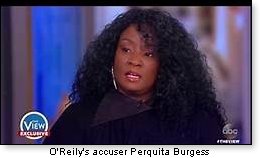 To hear all the claims of sexual harassment by women working at Fox News, it would appear that those foxy people are a passionate bunch indeed. The number of stars and executives of that network who have been charged with unwanted sex is staggering.One of the women accusing Bill O'Reilly was certain that he was attempting to guide her to his bedroom simply for saying, "You look nice today." And that can become headline news and wreck a career.
First of all, telling someone they look nice is a compliment of appreciation, not a shoehorn to slip them into bed. In this case, Perquita Burgess who worked as a clerical temp at Fox not only tried to make a case out of this but claims that O'Reilly greeted this black woman by saying, "Good Morning Hot Chocolate," That is what Ms. Burgess SAID he said.
Earlier, a line of women marched in on their stilettos using the same script format used by Ms. Burgess in order to shake down O'Reilly. Now check this timing. At the very time these women were following their marching orders (From George Soros) the Libs had organized an advertiser boycott campaign. Get this? O'Reilly is a staunch conservative with a huge audience and gives the news as it is. He has exposed many, many George Soros liberals by telling THE TRUTH about their activities, and the news at hand. They HAD to do him harm.
Related Posts via Categories