By Wes Vernon at Renew America

In case you haven't noticed, there is a media war in America today. Not the usual race for ratings. This is serious business, where the survival of our country hangs in the balance.
You may have noticed that for the first time our in our nation's history, there is a serious effort to overthrow a duly elected President of the United States by inflaming political tensions. The main battlefield for this "soft coup" attempt is the media.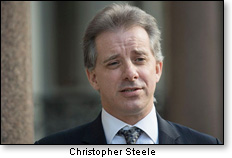 It is assumed the reader is familiar with the major players on both sides of this battle. First, there's one Christopher Steele, a former British spook, whose slanderous and unverified "dossier" is at the center of media attention.
Steele's efforts with that smear bucket, complete with its slanderous and unverified anti-Trump allegations, were alleged to have been funded by the DNC and the presidential campaign of Madame Inevitable. Steele declared his "passionate" goal against Donald Trump before and after he became President. Those efforts to get Trump out of office (through impeachment or otherwise) continue. With that, let us move on to battle divisions as they are structured at this point:
Related Posts via Categories