By Judi Caler at Renew America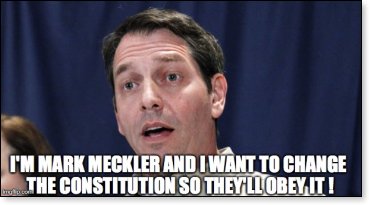 Mark Meckler, President of Convention of States Project (COSP), has spent much time and money over the past five years lobbying state legislators to support an Article V convention. Meckler says the only way to rein in an abusive federal government is with amendments; and the only way to get the amendments is at an Article V convention.
Article V of the U.S. Constitution provides that Congress is to call a convention if 2/3 of the States (34) apply for it. States "apply" by submitting to Congress resolutions passed by their Legislatures.
In order to procure Legislatures' approval on such resolutions, Meckler flatters state legislators by suggesting they are the wise ones who can be trusted to smack down the feds at an Article V convention. He also promises that legislators will have total control over the Delegates and can keep them from running amok and proposing "unauthorized" amendments or a new constitution.
So, imagine how surprised state legislators nationwide would be to learn that Meckler declared on Iowa radio recently that legislators aren't to be trusted at an Article V convention, and that we shouldn't trust any legislator anywhere!
Related Posts via Categories