By Stone Washington at Renew America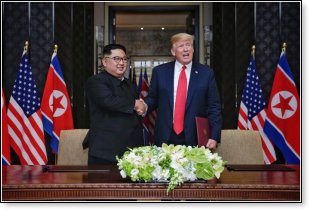 "Anyone can make war, but only the most courageous can make peace."
~President Donald J. Trump
Introduction to the U.S-North Korean Summit
On Tuesday, 12 June 2018 an historic and momentous meeting transpired that shifted the tide of the Korean War (1950-53). The meeting was held in the luxurious Capella Resort in Singapore, between American President Donald J. Trump and North Korean leader Kim Jong-un. This marked the first ever summit meeting between an American President and an North Korean leader in history. The two parties assembled under the intention for talks of formulating lasting peace between the United States, North Korea, and South Korea, ushering a new era of friendly relations between the three nations unseen since the division of the Korean peninsula in 1945 and subsequent Korean War.
Throughout the historic summit, President Trump and Chairman Kim Jong-un participated in a comprehensive, exhaustive, and sincere series of multi-lateral talks regarding issues related to the establishment of renewed U.S.-DPRK (Democratic People's Republic of Korea) relations and the building of a lasting and robust peace regime on the Korean Peninsula through absolute, verifiable nuclear disarmament. The meeting involved top delegates and officials from both sides and lasted for the majority of the day, concluding with a mutually agreed upon joint peace statement In the joint statement, Trump and Kim both agreed to honor specific security guarantees for North Korea, newly established peaceful relations, a reaffirmation for Kim to denuclearize the entire Korean Peninsula, assurance that the U.S recovers soldiers' remains from the Korean War, and a series of follow-up negotiations between U.S and North Korean high-level officials in the near future.
In this essay I will analyze the most significant aspects of the U.S-North Korean summit, revealing the aspects of the joint peace statement and impact that it has upon U.S-Korean relations. The article will examine the history of the divide between North and South Korea, followed by the Korean War, which, according to many foreign policy analysts, is an ongoing conflict to this day. Nevertheless, I will explain how this conflict has greatly, if not completely, subsided as a result of this historic summit.
Related Posts via Categories