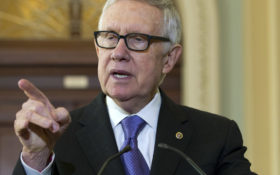 Former Senate Democratic leader Harry Reid was part of a massive plot to destroy President Donald Trump with phony allegations that Russia controlled his campaign, critics say – and legal watchdogs want to make sure everyone involved pays.
Reid, former CIA Director John Brennan, James Comey, and as many as 7 other congressmen wanted to plant the rumor that the Kremlin controlled Trump and that the Republican would do the Russian's bidding as president.
Judicial Watch has filed a Freedom of Information Act request for all communications between Reid and Brennan – because, some say, the e-mails would prove the two hatched the plot deliberately to destroy Trump during the 2016 elections.
Related Posts via Categories