By Siena Hoefling at Renew America

Americans often think they can do nothing about abortion, in the belief that "Roe v. Wade is the law of the land." This presumption is based on a misunderstanding of the judiciary's role in our constitutional republic. Much of that misunderstanding stems from a revisionist reading of the 1803 case Marbury v. Madison.
Marbury and "judicial supremacy"
Modern rulings and textbooks often quote just one line from Marbury, written by Chief Justice John Marshall, to elevate the judiciary above the other branches of government: "It is emphatically the duty of the Judicial Department to say what the law is." Upon this statement hangs what we call "judicial review." Taken out of context, this one sentence in Marbury supposedly makes the Supreme Court the final arbiter of the U.S. Constitution – confining every officer of government to the Supreme Court's interpretation, rather than to the Constitution's actual text and meaning. This unconstitutional doctrine is known as judicial supremacy.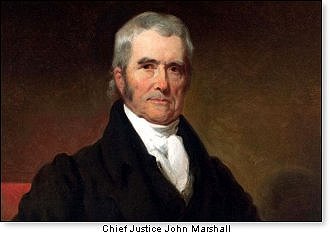 Judicial supremacists claim the Court has the exclusive, final right to interpret the Constitution for the other branches of government. But this notion does not reflect a fair reading of
Marbury
. Hardly a person of tyrannical bent, Chief Justice Marshall was a patriot who served as George Washington's chief legal officer at
Valley Forge
. Certainly he was aware of the purpose of the American Revolution: to gain independence from arbitrary, dictatorial rule, and to protect the unalienable rights of the people by the establishment of a self-governing republic.
As a young soldier, Marshall was dedicated to the cause and aligned with its key figures. His father was a personal friend of George Washington, and his mother was a second cousin of Thomas Jefferson. Later elected to the ratification convention in Virginia, Marshall worked with James Madison to bring about the adoption of the new U.S. Constitution.
Related Posts via Categories