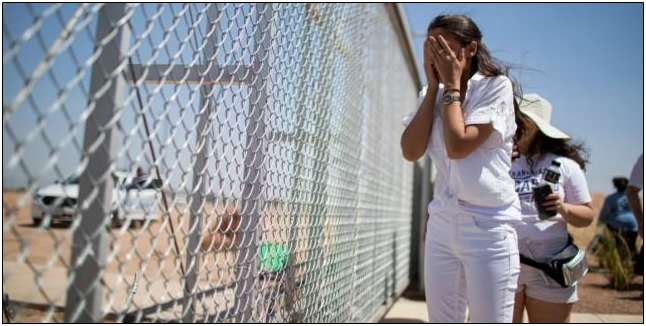 By Robert Romano at the Daily Torch
Faced with an unprecedented surge in illegal immigration at the southern border — more than 350,000 people were apprehended between March and May entering the country illegally or seeking asylum, more than double the normal rate, according to U.S. Customs and Border Patrol — there has been a rash of reckless and unfortunate comparisons made to Nazi Germany, concentration camps and the mass murder of six million Jews in the Holocaust and another 13 million Poles, Russians, Ukrainians and others.
Taking to Twitter, U.S. Rep. Alexandria Ocasio-Cortez (D-N.Y.) on June 18 declared, "This administration has established concentration camps on the southern border of the United States for immigrants, where they are being brutalized with dehumanizing conditions and dying. This is not hyperbole. It is the conclusion of expert analysis…"
Ocasio-Cortez linked to a report from Esquire by Jack Holmes, "An Expert on Concentration Camps Says That's Exactly What the U.S. Is Running at the Border" that quoted author Andrea Pitzer stating, "We have what I would call a concentration camp system, and the definition of that in my book is, mass detention of civilians without trial."
The systematic killing of the Holocaust was no singular event. It included the detention of civilians and prisoners of war in a network of more than 42,000 camps where death and murder were commonplace. Millions died. Any comparison is bound to draw harsh criticism.
In the Jerusalem Post, Rabbi Shmuley Boteach writes, "AOC's trivialization of Hitler's camps, where 1.5 million Jewish children were gassed to death, should sicken the heart of every person of conscience. If we don't confront and defeat growing Holocaust denial, we may soon confront a reality where young Americans more quickly associate the term 'concentration camp' with Texas and Arizona than the killing fields of Europe — and come to see Auschwitz as just another place where some bad things happened."
Other irresponsible headlines include Jacobin's "The Border Patrol Is the American SS," foolishly comparing the U.S. Border Patrol to Nazi Germany's notorious Einsatzgruppen. The SS included paramilitary death squads that were responsible for the mass murder of millions of Jews, Slavs and others often by mass shootings in addition to the millions more that were murdered in the death camps.
Related Posts via Categories